Last weekend, myself and 3 fellow Vanguardians jumped in a tiny arse Vauxhall Corsa and embarked on a 2 and a half hour journey to the deep darklands of Wales to take part in the first tournament to be held by the Towy Valley Tyrants. The tournament was also being run  by one of our [Mantic's] newest Pathfinders Tris. After a few conversations on Facebook with Tris after he joined I threw him a copy of my previous tournament rules, and a few tweaks later Tris had a tournament up and advertised and I was eager to show him some support.
Having been to previous tournaments in Wales where the only attendees were those who came over from Bristol, it was great to hear that through advertising in the right areas there were due to be 18 players there, which given how young the Dreadball tournament scene is, is a big tournament and most likely the biggest outside of the Mantic open day events. Apologies for the vagueness in the match reports, I managed to bring the plague back to England with me and after a week recollecting the exact details of events is always difficult so below is a snapshot.
Format
The format of the event was starting teams, with coaches being given an additional 20mc to add extras. Followed by 15mc after game 1, 10mc after game 2 and 6mc after game 3.
There would also be random rolls on the azure weather during the rounds to contend with.
The Z'Zorlanders
I elected to take the mighty Z'Zor, after playing the nameless in my local league I wanted to go back to these guys, and it was a kick up the arse to get them painted.
Upgrades wise I went for
Initial 20mc:
Offensive Coach
2x Coaching Dice
Post round 1:
3x Jack skills. Rolling 2x Strength increases and 1 Speed increase
Post Round 2:
2x Guard Skills. Rolling 360 vision and quick recovery
Post Round 3:
Round 1 vs Judwan
Round one saw me facing Ethan and his Judwan, who took the same set up as me with the additional credits. I was home team and set up aggressively ready to unleash the full fury of the guard, who in the first turn did nothing. Ethans first turn went terribly as 3 separate attempts to steal the ball from me end in 3 injured players. I quickly wrack up the injuries and points with at one stage having his entire team off the pitch. Judwan however are still pretty good at punishing mistakes, and a failed 4 pointer to take a landslide allowed him to get back and score to tie the game on the final action of the game.
Result – Tie game, 0 kills, 19 cheers (ME) 0 kills, 4 Cheers (Ethan)
Round 2 vs Judwan
Round 2 saw me face Judwan for the second game in a row. Sam was a seasoned Judwan coach and knew was able to use misdirect to the full potential, making my live extremely difficult. The game was close despite me managing to kill 3 Judwan Strikers in the space of a single turn. A failed pick up and 2 failed 4 point attempts nearly cost me the game, however with the 4 minute warning called I was able to go for the simple 1 pointer and claim the victory.
Result – 1pt Victory to me. 3 Kills, 8 Cheers (Liam) 0 Kills, 4 Cheers (Sam)
Round 3 vs Male Corporation
Round 3 saw me face off against fellow Vanguardian Tom. I play Tom quite a fair bit and our games either go down to the wire, or one of our dice fail us and it's a white wash. The game started off in our typical hectic fashion. I was set up as home team and Tom made the mistake of feeding 3 players close to the line for my Z'Zor guard to feed on. Despite my best efforts though I was unable to kill a player. This game resulted in an epic Armour save from Tom, having had one of his Guard Slammed and beaten 10-0 he managed to make a staggering 7 saves, including rolling 6 6's
Tom's dice however were not playing ball with him, and failed pick ups and strike attempts led to me being able to quickly rack up the strikes and finish off winning by a landslide.
Result – Landslide to Me. 0 Kills, 16 Cheers (Me) 0 Kills, 0 Cheers (Tom)
Round 4 vs Male Corp
So round 4 saw me on top table battling out against Andy from the Mid Wales wargamers for the top spot going into the Ultimate Game. With the weather being rolled as Blistering heat with every slam causing a fan check, this game turned into slam central with us quickly wracking up about 30 cheers between us before the weather changed. This was a fantastically close game and despite being able to nearly clear the field and kill one of Andy's players, we were trading score for score only managing 2 pointers for fear of overstretching. This was a true game of down to the wire. With the game tied going into turn 13 following a failed all or nothing 3 pointer attempt from myself, the ball had scattered just a bit too far away for Andy to pick up the ball and score given how the players were scattered. This allowed me to go for the quick score in the final turn and take the game by a single point. Both myself and Andy came out of that game mentally drained but both having enjoyed the game thoroughly.
Result – 1pt in to me. 1 Kill, 24 Cheers (Liam) 0 Kills, 14 Cheers (Andy)
Round 5 vs Nameless, Teraton, Judwan, 2x Male Corporation (Ultimate Game)
Going into the Ultimate game, I was the only coach with an unbeaten record, but by no means clear at the top, with how the ultimate scoring works I need to either Win, or Ensure a tie game occurs to be in with a chance of winning, and hope the 2nd tier ultimate result goes my way as well. Ultimate games are always bloody and a bit hectic, with the Judwan team finding out the hard way being inbetween a Teraton/Z'Zor love sandwich. However despite our slamming not a single player died in our game, much to our displeasure. The nameless quickly took a large lead and was 1 score from landsliding, however with everyone settling down, the points were quickly stripped off. With myself missing 3 separate 3 pointer's I was seeing my grasp on the trophy slipping away. However with the final action, fellow Vanguardian Josh scored to create a tie game for our table. With this one secured it was all in the dice god's hand to see if it was enough.
Result – TIE GAME
Final Results:
Most Bloody – CJ (Vanguard)
Wooden Spoon – Phil (TVT)
3rd Place – Andy Wells (Mid Wales)
2nd Place – Lawrence York  (TVT)
1st Place – MEEEEEEEEEEEEEE 🙂 (Vanguard)
So the result went my way, and I walked away as the overall winner. I got to admit, I am chuffed to bits 🙂 Winning aside, it was a great fun day. Tris did a fantastic job and all the guys in the surrounding area who came are a great bunch of gamers. I'm most definitely looking forward to getting to more event's run by these guys in the near future!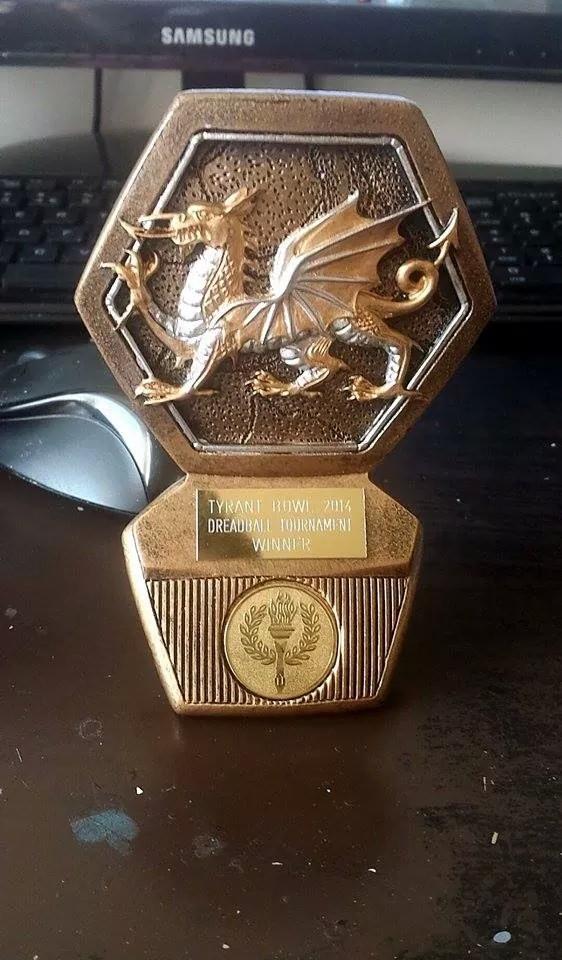 Right, now back to dying from this plague.