Cassandra is nw finished. She was delivered on Thursday and painted in a day in a race to be ready for this weekends Malifaux tournament. She was done in time, but I never ended up using her lol.
The tournament I attended was Deliverance at Firestorm games. Apologies but I didn't take any notes during the weekend as only having played 3 games before the tournament I needed to focus on remembering the rules and not playing to slow. I did however remember my results and opposing masters:
Game 1 – 6-1 Lose against Wong. Wong is horrible and so is Sammy. Sammy making Howard and Joss unable to move sucked hard and through me completely.
Game 2 – 8-6 Lose to Wong. Only 2 gremlin players and I get Wong 2 games in a row. I learnt mistakes from game 1 but stupidly took distract and left it to late to try and distract other models. At which point it was too late as I killed everything…
Game 3 – 9-3 Win against Lady J. Recon with spider spam went in my favour
Game 4 – 6-4 Lose against Hoffman. A very enjoyable game and I lost out narrowly due to Hoffman being able to distract models quicker than I could undistract them. I was in a position to get a draw but the 1 card would have stopped it from happening. (Black Joker) And guess what came out… 😦
Game 5 – 4-3 Lose to Lillith. Another very Enjoyable game to my vote for most sporting. Mr Rich T biscuit 😉 Despite the lose. I threw the game away as I forgot to activate 1 final model before we called time which would have walked and claimed me 2 VP for outflank 😦
Still it was a very enjoyable event, I was gutted to have not made the final 4 for best painted but still with only 3 games under my belt I managed to finish 13th out of 20 which I am chuffed to bits with seeing as my expectation was to lose them all. I am not sure what I am more chuffed about, winning a game or having lost 3 of my games by only 1 or 2 points.
Still I have plenty of malifaux to look forward to, having signed up to joelfaux in September and the GT in November. With limited opponents in Bristol I will need to get plenty of Vassal practice in.
Oh and in typical Liam fashion, it wouldn't be a trip to a gaming store if there wasn't a hobby haul 😀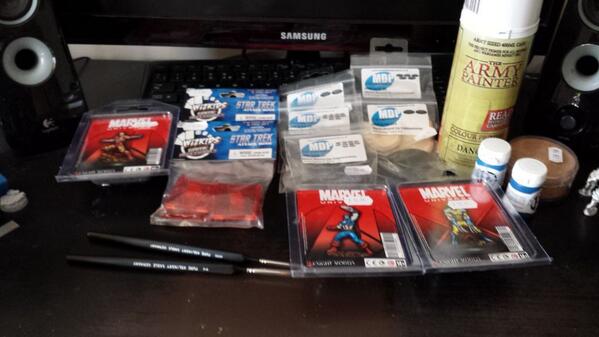 Resin bases for neverborn models
blue paints and white primer
Some red bases for my X-Wing models
A few knight models for painting
Basing flock
Most importantly some new paint brushes to replace those utter shite G&G brushes